News | Auction | Residential Auction | Commercial Auction
Allsop raises over £100m from September auctions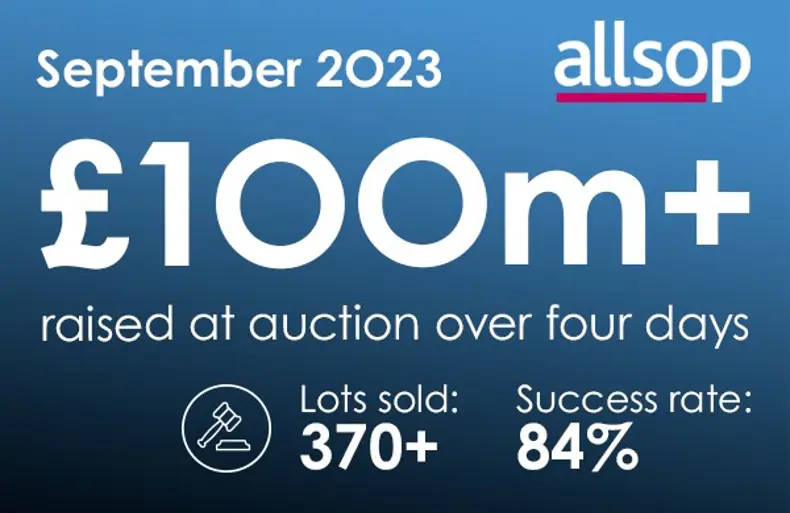 Allsop, the UK's leading property auction house, has raised more than £100m over a two-week period in September through its residential and commercial auctions.  
The residential auction was Allsop's largest residential auction in a decade with over 500 lots on offer and was delivered over three days in a reflection of both the supply and demand that has built up over the summer. The auction raised £65m with a success rate of 86%, and the largest lot being two freehold buildings in Purley, which went collectively as one lot for £4.17m.
The commercial arm of Allsop raised £37.2m from the sale of 66 lots, which represented a success rate of 84%. The auction featured a range of mixed-use and commercial asset lots, including one in Surrey which sold for £2.1m. Among the most popular lots on offer was a portfolio of ten dentist surgeries across the south of England, which all sold for at an average yield of 5.8% net, 17.5% ahead of the reserve prices.
Richard Adamson, Partner and Residential Auctioneer at Allsop, said:
"We are thrilled with the results of not only our residential auction, our largest and most successful of the year, but also of our colleagues in the commercial team who have had just as successful a month. Collectively we have raised over £100m in a two-week spell, in arguably the most challenging market conditions for a decade.
"In this time, we have utilised the room, offered an online only service and live-streamed. Allsop continues to push the boundaries and lead the way in showing the rest of the market better times are ahead."
George Walker, Partner and Commercial Auctioneer at Allsop, said:
"From our September auction catalogue, we have to-date sold 66 lots where the sellers were prepared to listen to the market and where buyers seem increasingly to be sensing a strong opportunity. This competition generated the highest overage above reserve for some time, averaging 14%, which proves the principle of realistic pricing at the outset.
"We look forward to working on our next catalogue which will include some 90 lots, going live on 13th October."
Residential auction highlights include:
Lot 47 & 48: Purley, London – Two freehold buildings internally arranged to provide a total of 15 self-contained flats, sold collectively as one lot for £4.17m
Lot 21: Fulham, London – A freehold building internally arranged to provide two self-contained one bedroom flats, sold for £887,500
Lot 30: South Kensington, London – A self-contained second floor two bedroom flat subject to a regulation tenancy, sold for £850,000
Lot 410: Cumbria – A freehold five bedroom barn conversion including a part complete four bedroom house, sold for £450,000
Commercial auction highlights include:
Allsop's commercial auction will be held online on 31st October 2023, and its residential auction will be live-streamed on 2nd November 2023.