Blog | Build to Rent
The rise of Build to Rent in commuter towns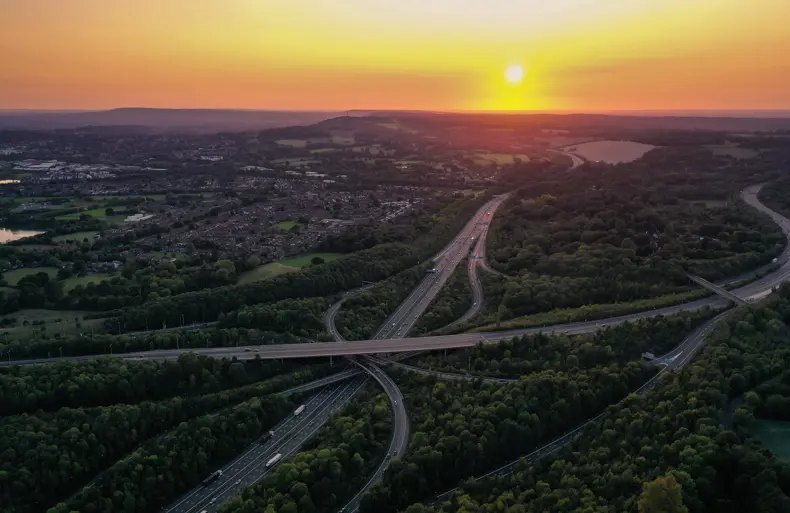 Commuter town Build to Rent (BTR), which offers renters the convenience of apartment living away from major cities, has been increasingly popular with home seekers due to several factors, not least because of the supply issues in cities like London and post-pandemic living trends.
What is driving demand?
COVID-19 has played a major role in reshaping our living preferences. On the back of newly introduced remote working policies, many people started to look further afield for more space and more affordable rents. At the peak of the pandemic, many believed they would never have to return to the office again, which led to a surge in demand for houses in more remote locations. However, over time it became clear that for a large proportion of workers the 'hybrid approach' to working at home and the office works well, and as a result, connectivity has returned to the top of many renters' priorities, which partially explains the popularity of commuter-town BTR.
Supply issues
Another reason why this rental product is bound to see continuous demand is the chronic rental stock supply shortage in parts of London's commuter belt (as well as all over the country). The number of properties available to rent has been diminishing, with a large portion of private landlords choosing to sell their properties because of the increased regulatory burden as well as financial viability constraints amplified by the recent interest rate rises. This is unlikely to improve as the sector braces itself for more challenges with the anticipated Renters' Reform Bill and upcoming energy efficiency targets (EPCs).
Rental growth
Just as commuters from wealthier cities have historically raised local housing prices, a surge in demand for rental property has led to strong rental levels and increased investor interest. Supply constraints have naturally helped to push rental growth. Nationally, rental trends have witnessed strong and steady increases, with England seeing over 6% median rental growth between October 2021 and September 2022.
With many investors in the BTR market already reaping the rewards of their city-centre developments, they are now focusing on expanding their portfolios into commuter towns, popular with young professionals and with a low supply of high-quality private rentals.
BTR commuter hotspots
Some commuter towns have experienced higher BTR development activity than others, and their appeal can be attributed to a host of factors.
The following locations are all commutable in less than 60 minutes and all have average house prices below the London average of £534,000 (January 2023, latest HM Land Registry, for additional reference the City of London average is £885,400); and rental growth analysed as being in the top 25% of all UK local authorities using analysis from the Office for National Statistics Private Rental Market Statistics, using rental data from October 2018 (when this dataset started) to September 2022. 
Watford
Watford sits just 15 miles north-west of central London. With excellent train routes into the city, (Euston in just 20 minutes) commuting from Watford is quicker than from many parts of London itself, and proximity to the M1 and M25 make it highly convenient.
The town also has numerous large companies and headquarters, with a local economy based around the service sector including financial and professional services, pharmaceuticals, health sciences, creative media,
manufacturing, and retail and leisure industries. Currently, there is just one operational BTR scheme – Cortland Cassiobury, a JV between Cortland and Harrison Street.
Key stats
- 20 minutes to London Euston
- Median rental growth 19.4%
- Average rents of £1,200 (median) and £1,395 (upper quartile) - among the highest outside of London
- Wage growth 4.6% (2021-2022)
- Average house price £409,000
- 13.2% population growth between last two Census
- Watford saw the country's second largest increase in percentage of privately rented homes - from 20.1% in 2011 to 28.2% in 2021.
Milton Keynes
Milton Keynes acquired city status in August 2022 and is an employment and business hotspot in its own right, but is also well-located, with good rail links to London Euston as well as being equidistant from the university cities of Oxford and Cambridge. With a strong local economy and demographic indicators, it is home to Packaged Living's initial scheme, The Almere, which completed in June 2022, whilst Grainger already operates two schemes in the city.
Key stats
- 35 minutes to London Euston
- Median rental growth 15%
- Average rents of £1,035 (median) and £1,250 (upper quartile)
- Average house price £320,000
- Wage growth 7.3% (2021-2022)
- 15.4% population growth between last two Census
Ashford
Ashford in Kent is a market town that has developed rapidly in recent decades, with many new build housing developments, and has seen strong house price growth in the previous 10 years, above the national average. Known for its countryside and access to the Channel ports, the high-speed rail link to London St. Pancras takes just 38 minutes, making it a convenient location for both city working and easy access to green space. Anticipating population growth of c.8% in next decade (compared to national 4% forecast), we are aware of one BTR development in operation so far by Citra Living, helping to meet growing demand for high-quality rental homes.
Key stats
- 38 minutes to London St Pancras
- Median rental growth 13.2%
- Average rents of £900 (median) and £1,100 (upper quartile)
- Wage growth 11.7% (2021-2022)
- Average house price £377,000
- 12.5% population growth between last two Census
Crawley
Crawley has expanded fast in recent decades. Whilst the local economy is based on Gatwick Airport and industries that serve aviation, Crawley train station benefits from a good service to London, as well as Brighton and easy access to the M23/M25. PLATFORM_ was the first to develop a BTR scheme in Crawley, and M&G has a single-family rental scheme, The Green, on the outskirts of the town.
Key stats
- 45 minutes to London Victoria
- Median rental growth 13.2%
- Average rents of £1,075 (median) and £1,250 (upper quartile)
- Wage growth 14.6% (2021-2022)
- Average house price £333,350
- 11.2% population growth between last two Census
South Cambridgeshire
South Cambridgeshire district surrounds Cambridge City (which is its own district) offering a different proposition to the previous locations discussed, in that being a mostly a rural area, this commuter location is attractive for single-family-led BTR. The district has strong rents and the highest weekly pay of the areas examined (despite a negative wage growth in the last year). A suburban location, it is appealing for housing-led rental with Present Made (Apache Capital) securing planning for a large-scale rental housing scheme.
Key stats
- 55 minutes from Cambridge Station to London Kings Cross
- Median rental growth 15.8% (Central Cambridge authority only 4%)
- Average rents of £1,100 (median) and £1,300 (upper quartile)
- Average house price £459,500
- Wage growth -1.9% (2021-2022)
- 9% population growth between last two Census
Summary
It has been well reported that people are seeking to achieve a better work-life balance in locations with convenient transport, amenities, green open spaces, and value for money as the country is battling the cost-of-living crisis. The permanence of hybrid working will have implications for local government planning in terms of housing and infrastructure, and whilst this will play out differently in commuter towns across the UK, one thing is certain – BTR is emerging as a prominent player in this field.
Large cities will continue to exert a gravitational pull, and the efforts of employers to lure staff back to the offices is having an effect. Yet, as we have seen so far, the longer-term pattern for hybrid working means commuter towns may also develop a new symbiosis between the cities and their surroundings, benefitting from the relocation of residents and businesses alike.