News | Auction | Buying at Auction | Residential Auction
Allsop raises £46m in largest-ever August auction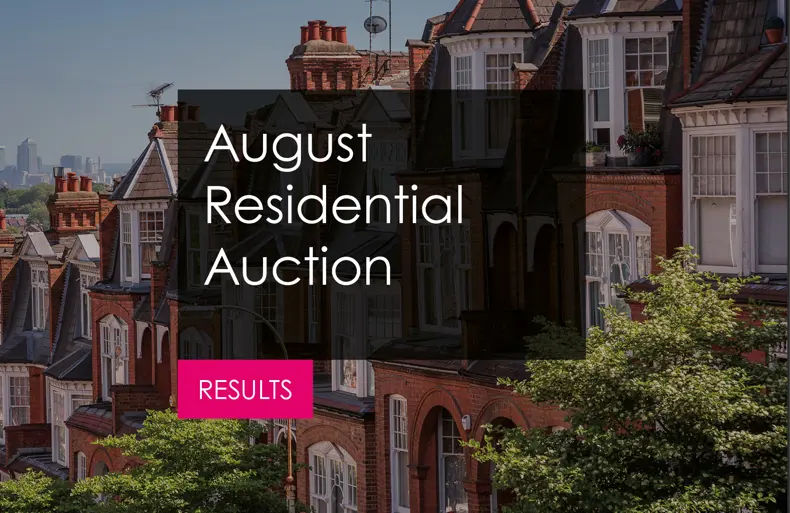 Allsop's most recent auction becomes the largest ever residential auction to be held in August in the UK, yielding a success rate of 78%
£46m was raised from the sale of 157 lots, a 25% increase on August 2022
Seven lots sold for £1m or more, with the highest-value asset, a former office building in Surrey, purchased for £2.55m
Allsop, the UK's leading property auction house, raised £46 million from the sale of 157 lots at its August auction, making it the largest ever residential auction to be held in the country in August. The firm's fifth residential auction of the year has resulted in a success rate of 78%, with seven lots having sold for £1m or more.
Allsop raised 25% more in this year's August auction than it had done in the same sale last year despite the challenging market environment further affected by the latest Bank of England base rate rise, announced on the day of the auction.
The most popular lot of the auction, with over 80 registered bidders, was lot 1, a leasehold two-bedroom maisonette, which sold for £636,000 from a guide price of £275,000.
Buyers were able to choose from a mixture of investment and development opportunities across the UK, including a former office building with planning permission for redevelopment and less conventional assets, such as roof space.
Richard Adamson, Partner and Auctioneer at Allsop, said:
"It is no secret that the residential property market has been heavily impacted by the challenging economic backdrop over the past year or so, with the 14 consecutive interest rates rises having had a particularly significant effect.
"Raising a record £46 million, which is the largest amount ever raised at auction in the month of August, with a success rate of 78%, is an impressive result. The market has had to adjust to the new normal in terms of the cost of finance, and pricing has shifted to factor this in, however, this result clearly demonstrates investor appetite for well-priced assets. We look forward to building upon this success in our next auction taking place in September."
Auction highlights include:
Lot 78: Surrey – A freehold former office building with consent to convert into 23 residential flats, sold for £2.55m
Lot 73: Manchester – Two freehold adjoining blocks of flats comprising a total of 16 self-contained flats, producing £104,340 per annum (with two flats vacant), sold for £1.7m
Lot 91: Shepherd's Bush, London – A freehold building internally arranged to provide two self-contained flats, sold for £840,000
Lot 1: Dalston, London – A leasehold two-bedroom maisonette extending to 1,238 sq ft, sold for £636,000
Allsop's next residential auction will be held in-person on 21st September 2023 at The May Fair Hotel, London.