News | Letting & Management | Build to Rent
Allsop scoops up three HomeViews awards, including Top BTR Management Company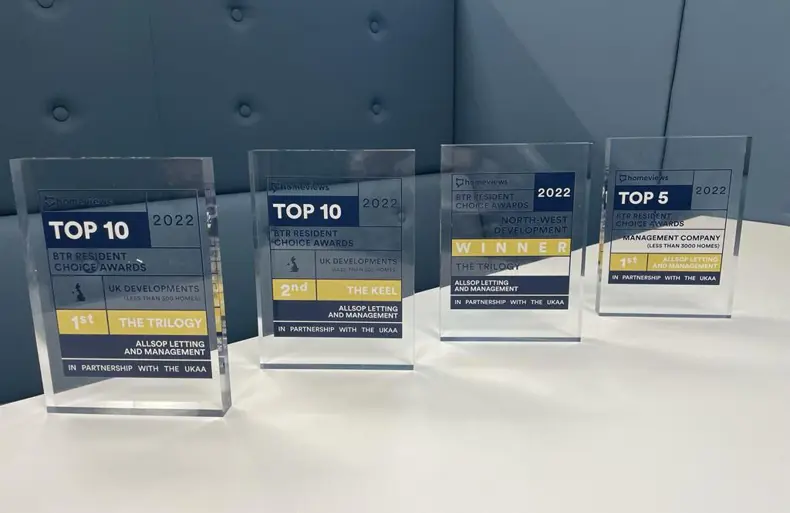 Allsop Letting and Management (ALM) has been recognised with three awards, including the Top BTR Management Company Award (under 3,000 units) at the annual HomeViews Build to Rent Awards presented as part of the UKAA's Annual BTR Conference 2022.
These awards acknowledge individuals, projects and organisations that have successfully developed effective customer service strategies, as well as demonstrating strong signs of community building and sector growth.
The Trilogy, managed by the ALM team on behalf of a client of Barings, was awarded Best BTR development in the UK, while The Keel came second nationally. Additionally, Trilogy, Keel and Vox took top spots for their North West Region.
Trilogy has managed to repeat the feat having topped the 2019 list of the best BTR developments in the UK based on residents' feedback submitted via HomeViews.
Furthermore, the on-site teams looking after the day-to-day management of Vox and The Trilogy were both highly commended in the 'Team of the Year' category.
Comprised of more than 100 members, ALM manages over 2,000 BTR apartments in Manchester, London and Liverpool with an additional 1,300 properties across the UK.
Established in 1999, it is one of the UK's largest independent residential investment managers. As an early promoter of the investment benefits of PRS, ALM was also one of the first operators in the BTR sector. Last year, HomeViews recognised Allsop with four awards including a BTR Talent Award and three HomeViews awards.
Matt Smith, CEO of Allsop Letting & Management, said:  "We're thrilled to have been acknowledged by HomeViews, and the fact that these awards are based on residents' feedback make them all the more meaningful for our team. This fantastic result is testament to the dedication and hard work of all of our staff united in their goal to deliver the best possible service to residents and outstanding results to clients. We're humbled by such a positive response to our work, particularly in the North of England where competition is fierce, and standards are high".
Ben Pile, Head of Residential Investing and Asset Management – Europe at Barings, added: "Trilogy has been an attractive and cost effective place to live since its launch in 2019, with excellent location and amenities boosted by the high-quality management service provided to residents by the Allsop team round the clock. Consistency and quality of service are an important factor in the success of any BTR scheme, and we're pleased to be working with Allsop who have been managing this building in a highly professional and effective manner for the past three years."