Blog | Commercial Investment
Have rising interest rates and stubborn inflation brought the commercial property market to a crawl?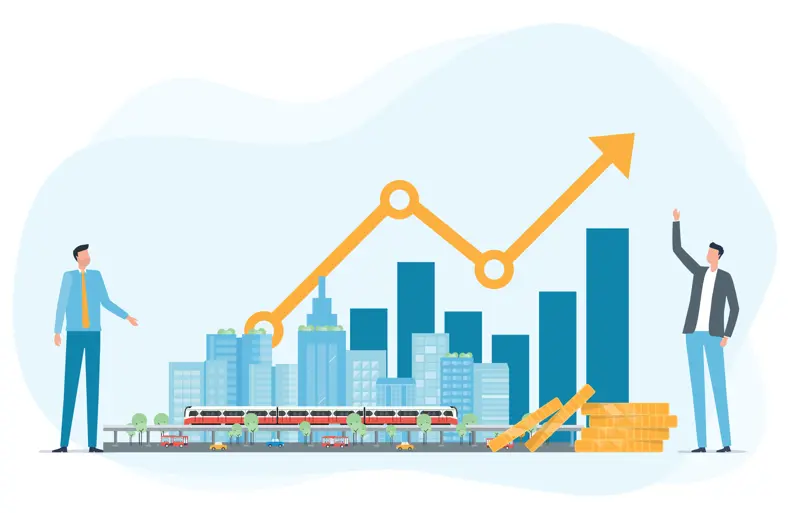 On the 3rd August 2023, the Bank of England (BOE) raised the base interest rate from 5.00% to 5.25% - the highest level since February 2008!  
The BOE has been raising rates to bring down inflation which, according to the Consumer Price Index (CPI), as of 19th July 2023, was as high as 7.9% in the 12 months to June 2023. Positively, this was down from 8.7% in May although still well above the BOE's target rate of 2.00%.
The market is pricing in further base rate hikes in 2023 with SONIA 1 year swap rates implying a peak base rate of 5.63% as of 3rd August 2023, which is up more than 300 bps since August 2022. This is due to investor concerns over the BOE having to raise rates more aggressively and higher than they had anticipated to bring down inflation which as you can see from the chart below has remained stubbornly high.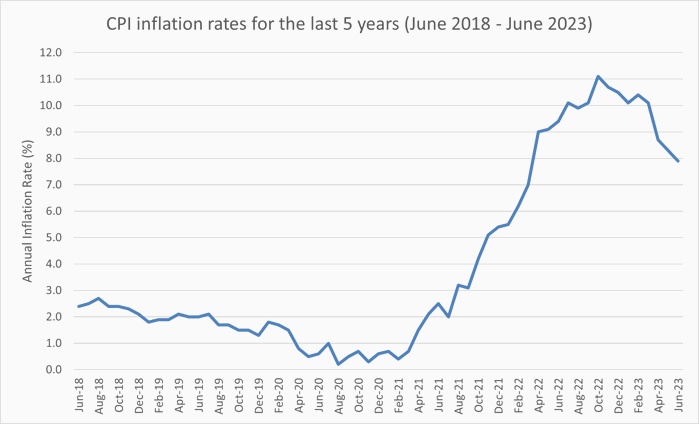 What next for interest rates?
The simple answer is that we cannot be sure as there are several unknowns. An obvious question is how workers are responding to persistently high inflation?
The easy fix would be to demand above-inflation or inflation-linked pay rises which is exactly what we've seen from rail workers, nurses and junior doctors with ongoing disputes with unions leading to strikes. The problem with that is that if public and private sector workers behave similarly, we could end up with a secondary inflation wave due to a wage price spiral which embeds inflation into the system and makes it very hard to root out. To its credit, the government has stood firm and negotiated with the unions and, in some cases, reached a settlement. This is prudent from a public policy perspective but nonetheless is a bitter pill to swallow for people struggling with the cost of living.
The latest data we have on wage growth indicates that growth in employees' average total pay (including bonuses) was up 6.5% and growth in regular pay (excluding bonuses) was 7.2% in February to April 2023. Growth in total and regular pay fell in real terms (adjusted for inflation) on the year in February to April 2023, by 2.0% for total pay and 1.3% for regular pay. A similar fall was last seen in February to April 2009 when it fell by 4.5%, but it remains among the largest real-term falls in total pay since comparable records began in 2001.
How have rising interest rates impacted the commercial property market?
| | | |
| --- | --- | --- |
| Year | Transaction Volumes (£m) | Base Interest Rate (Average) |
| 2019 | £47,391 | 0.75% |
| 2020 | £40,543 | 0.10% |
| 2021 | £59,241 | 0.10% |
| 2022 | £54,816 | 3.50% |
| 2023 (to date) | £9,990 | 5.00% |
Interest rates, political uncertainty and inflation have weighed heavily on investor confidence. Transactions volumes for the first quarter of 2023 stand at £7.5bn which is ½ the volume of Q1 2022.
Is there any sign of life?
Despite the uncertain economic backdrop, the Allsop private client team has transacted 31 deals (£160m), spread across all commercial property sectors, since September 2022's mini-budget.
Despite all the negative economic fundamentals, the smaller end of the market (lot sizes of up to £5,000,000) is proving robust. For the team, retail has been the most active sector (34%), followed by industrial (17%) and office (17%), with a further 22% of transaction volumes in the alternative sector, as gyms, hotels and children's nurseries prove particularly popular.
Who are the buyers and why are they buying?
The majority of our 31 sales (38%) were bought by private investors or family offices which highlights the weight of private wealth seeking to enter the market. The domestic institutional funds have also been active (17%), predominantly in the alternative sector where yields have moved out significantly. Approximately 8% of our transactions were bought by councils, mainly for regeneration purposes. The private investor has always been the core of the Allsop client base, with the auction teams and Private Client Team proving a successful hunting ground. They are generally cash rich (83% of our buyers were buying using cash) and will not consider borrowing until interest rates start to fall.
In our experience, the cash rich private market sees the current situation as an opportunity to deploy money at favourable yields into commercial property. Yields have moved out quickly especially since the mini-budget and successive interest rate hikes which has squeezed the yield gap / arbitrage that existed between property yields and the cost of finance. The UK institutions have been and will likely remain net sellers motivated by the need to restructure their portfolios, deploy funds elsewhere and/or return money to their investors / shareholders.