News | Residential Investment
Allsop Completes £35M+ Sale of 124 Apartments at Ford's Former European HQ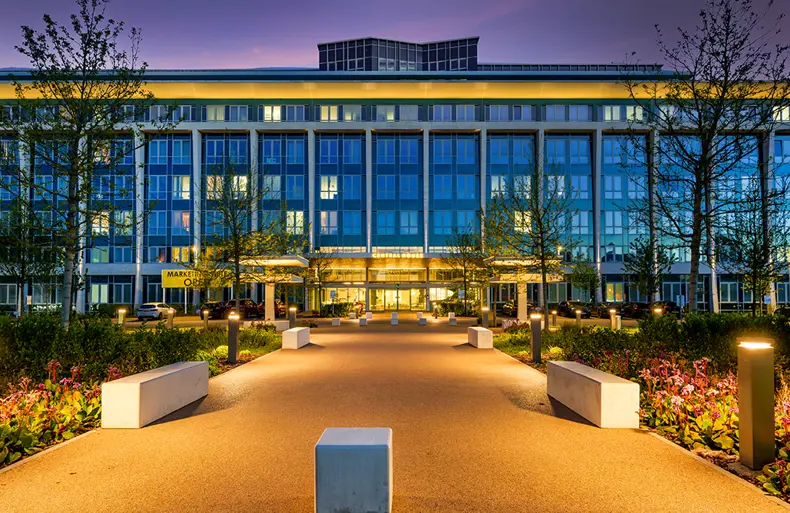 The apartments, acquired by Citra Living, form a part of Land Charter Group's 330-home regeneration project in Warley
Leading property consultancy Allsop has completed the sale of 124 properties as part of Land Charter Group's 330-home regeneration project in Warley, Essex. The apartment portfolio has been purchased by Citra Living for £35.7m, with an anticipated gross ERV yield of 5.5%.
The one and two-bedroom apartments have been created as a result of an ambitious office-to-residential conversion project that saw the redevelopment of Ford Motor Company's former European headquarters, where Ford ceased to operate in 2019.
The original building, built in 1964 and modelled on Ford's global head office in Detroit, has been sensitively repositioned with the help of its original architects, tp bennett. The architects have maintained the unique historical features of its façade, helping reduce the embodied carbon in development and operation through the retention of the original building structure, in keeping with modern-day sustainability considerations. In addition, the reinvigorated building now features electrical vehicle charging points and solar panels, encouraging the use of more sustainable modes of transportation and clean energy.
Residents will be able to take advantage of the amenities available within the building, including a café, gym, shared workspaces, meeting rooms and residents' lounge, dining room and BBQ areas, all coordinated by a dedicated building manager.
The development is located a short walk from Brentwood train station, offering fast rail links to London via the Elizabeth Line, with Liverpool Street station just a 40-minute journey away.
Allsop acted on behalf of Land Charter Group, the vendor.
William Shoebotham, Partner at Allsop, said: "Ford's former Warley HQ is a superb example of an office-to-residential conversion through permitted development, an asset class which has been of increasing interest to investors and in which Allsop has built considerable expertise over the years. Thanks to Land Charter Group and its partners, this building has retained its historical features as well as acquiring new sustainable elements, making it well suited to the needs of modern occupiers. Located in a desirable part of Essex and benefitting from excellent transport links, the apartments will undoubtedly appeal to a broad range of home seekers, including commuters. As the UK rental crisis show no signs of abating, this development presented an excellent investment opportunity for the buyer, not least because of its strong sustainability credentials."
Jack Buttleman, Land Charter Group, said: "It's Citra's mission to provide a great rental experience in sustainable homes and communities: Warley HQ is a fantastic example of modern living made more attractive by the rich history of the building and surrounding area. It's been fantastic to work with Citra on this deal given their experience in the sector, and we look forward to working with them on future opportunities."
Andy Hutchinson, Managing Director of Citra Living, said: "It's great to work with a family-run business like Land Charter that knows the value of community and maintaining historical architectural aspects while boosting the supply of much-needed high-quality, rented accommodation in this part of Essex.
"What's striking about Warley HQ is the energy credentials of the building. By investing in a project which retains the original building structure, there are significant embodied carbon savings.
"This building has also been designed to accommodate those working from home with meeting rooms and high-speed internet. It also offers a variety of features to promote the overall health of the residents. There's plenty to explore in the Brentwood borough, whether it be open countryside or boutique shopping, so everyone is catered for."