Bidding at an Online Only Auction
Before bidding at any Allsop auction you must first register to bid.
Once you have registered to bid and signed up to our online bidding platform, you'll need to know how to bid on auction day.
---
At Allsop we want to make it as simple as possible for you to buy a property at auction.
On the day of the online-only auction, just go to the page for the lot you wish to bid for. A pink pop-up window will appear that will let you log in using your online bidding platform account details (this is not the same as your Allsop website login).
After logging in the window will show the current bid, and a countdown timer indicates how long is remaining on the bidding for that particular lot. Now you can either place an instant bid or set a maximum bid.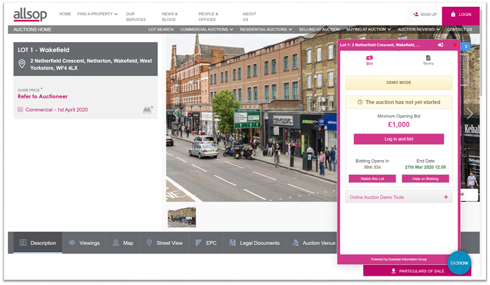 Auction day has arrived, and you've registered to bid, but perhaps you still have questions.
Below we answer some of the most common queries about auction day and buying an auction property.
FAQs: Bidding at an Online Only Auction
The auction start time will be clearly displayed on our website. We also email this information to our subscribers and registered bidders. To ensure you have the most up-to-date information please sign up on our website. 
Yes, the bidding is in lot order. Check the website on the day of auction to view the progress and see what lot we are up to at any given time. There is an estimated closing time for each lot at the bottom of the bidding window.
Go to the Allsop website, there will be a pink pop-up window* on the lot page of the lot you are bidding on. Log into the bidding window using your username and password for the online bidding platform (not the account details you used to register to bid).
We do send details of how to log into the pop-up window once you register, prior to the auction.
*This window will only appear on the day of the auction.
Yes, as long as you add them to your registration to bid prior to the auction.
Once logged in, the pop-up window shows the current bid and a timer counts down how long is left to bid for that particular lot.
Bidding will be extended by a further 20 seconds to allow you time to bid.
Yes. The bidding countdown timers automatically extend to ensure sufficient opportunity to bid.
Once you've placed your maximum you can't change it. If your maximum bid is exceeded you can of course place additional instant bid(s) or set a new maximum bid if you wish.
Please call us immediately and one of our team will do all they can to assist you. However, please note that we cannot guarantee being able to approve your registration to bid at such short notice.
We strongly advise that you sign up to the Allsop online bidding platform at least one working day before the auction. This is because even if you have received approval to bid you still need to have your online bidding platform account approved before you can bid on auction day.
Head over to How to Register to Bid which explains how to sign up to the online bidding platform.
The bidding pop-up window will indicate you are the successful bidder. You will also receive an email notification.
If you are the successful bidder, we will contact you for the balance of the deposit payment. This must be sent promptly after the auction and in any event no later than one working day after the auction, in accordance with the Auction Terms for all Auctions.
No, if you're the successful bidder then you're legally bound to purchase and pay a 10% deposit once the bidding concludes and the virtual gavel has fallen. If you cannot complete the purchase, then you risk losing your deposit and are liable for all losses.
Important Information