Blog | Owner Business Rates | Occupier Business Rates
Potential rates refund? Act before it's too late!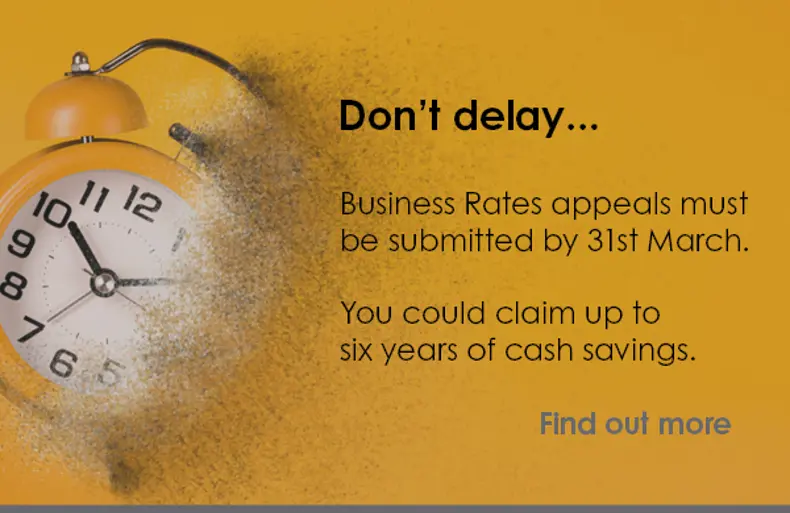 Challenge your current business rates before 31st March 2023
Time is running out to challenge your current business rates – so action is needed now! The last date to submit an appeal to the Valuation Office Agency (VOA) is 31st March 2023, but don't leave it to the last minute. At a time when businesses are seeing increased costs across the board, we are here to help.
Thousands of properties across the country have yet to challenge their business rates across England and Wales, meaning businesses could potentially be missing out on £X,000s in potential rebates – in some cases backdated over 6 years.
We recommend you seek advice from our rating specialists, if the following applies to your business: 
Have you carried out any building work on your premises since 2017?

Do you use all your floor plate? (i.e. is any part temporarily out of use?)

Agreed a new lease, rent review or re-lease in or around 2010, 2015 or 2021?

Think your rate bill is excessive

Some examples of savings that could be made:
Office in Westminster:
Office in Reading:

Successfully challenged Rateable Value (RV)

Original RV: £300,000
Agreed RV: £240,000
Savings: £187,920.00 (01.04.17 to 31.03.23)

Post tenancy building works (10 months/floor  in CAT A) – deletion from Rating List, starting 01.04.19:

RV: £220,000
Savings: £64,831.48
New Rating List, new Business Rates demands…
The new Rating List starts on 1st April 2023 and your new business rates demands will be coming through your letter boxes very soon.
Government has revalued all commercial property across England and Wales and some will see a decrease compared to last year (retail, leisure and hospitality particularly), but offices and industrial properties may have increased considerably.
We can help you with your appeal
At Allsop, we specialise in mitigating business rates across all property types. We have collectively over 130 years' experience within the Rating team and are ideally positioned to provide fast, accurate and efficient advice on all opportunities to challenge, and take the hassle out of, your business rates.
Don't delay - get in touch with us today
If you would like to discuss your property and the opportunities available, contact:
Ryan Stanton by email or on 020 7543 6826.